WaraQ Foundation for arts & culture
WaraQ is an independent non-profit organisation dedicated to support the contemporary Libyan art scene locally and in the diaspora, Through encouraging socio-critical dialogue between artists and audiences.
KASHKOUL // Issue 01
Collective resistance
2020

For the first time in what seems like ages, the entire world finds itself once more combating a universal pandemic, but not actually combating if we look at the helplessness worlds' governments are exhibiting in the face of this crisis. And while the world is busy trying to find a solution for the covid 19 virus, we find ourselves as libyans stuck in an even further, multilayered crisis, facing what seems to be a bleak question: "how do we survive a pandemic under an avalanche of shelling and bombs?"

Online Issue ︎︎︎︎
// KASHKOUL OF COLLECTIVE RESISTANCE // كشكُـــــول المقاومَــــــة الجَماعِيــــّــــة
Featured Updates:



September: We're taking part in The Tandem programme for cultural exchange gathering cultural managers and civil society activists from Egypt, Jordan, Lebanon, Morocco, Sudan, Tunisia, and Libya. Read More

October: WaraQ was selected by The Arab Fund for Arts and Culture – AFAC and Drosos foundation as one of the eight cultural institutions, which will take part in the third cycle of the

Arts and Culture Entrepreneurship (ACE)

program (2020-2021)

Read More
Value of Art in social fabric!?

We're part of Reshape trajectory that works on reshaping the value of art in social fabric, a program that gathers professionals from the arts and culture sector from across Europe and the south Mediterranean.
During our recent meeting in Gent, Belgium, We used the card game (reframing the international) which was designed by Flanders institute to help cultural actors prototype their projects, identify threats and propose a process of knowledge sharing and thinking collectively and critically.

We theoretically played the game to conceptualize a project idea of an art installation that would be put in one of Tripoli's main streets, where citizens have the freedom to ask questions to the city and interact with it.
Now we want you to collectively think with us; If Tripoli was a person in front of you, What would be your question?

Send your thoughts to Info@waraq.de
February 2020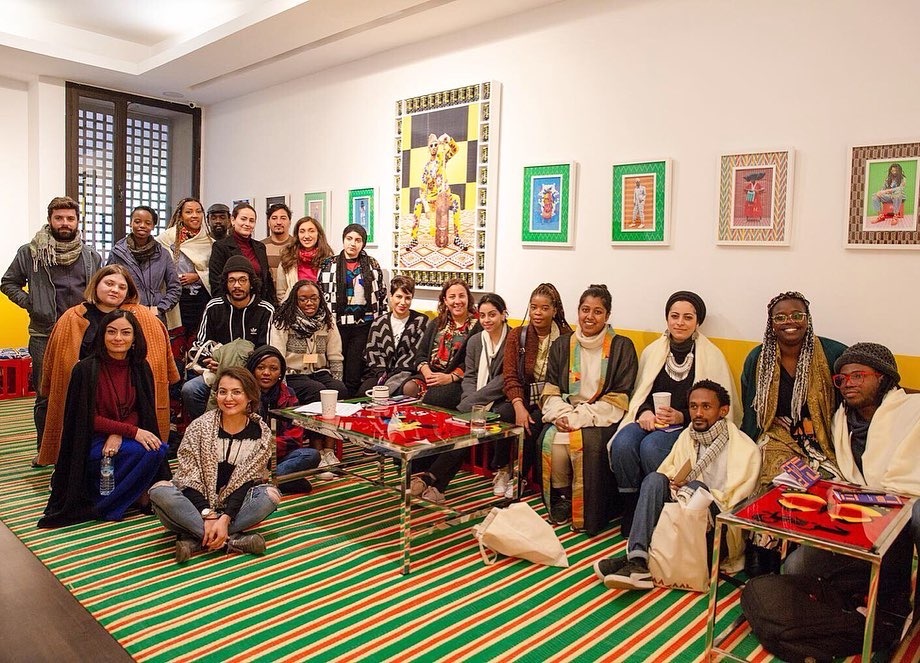 January 2020
In January, we were at MACAAL (Musuem of contemporary African Art) in Marrakech for the Intensive bootcamp gathering twenty cultural producers from North, West, East and South of the continent, where a program of lectures, seminars, talks, exhibition tours and mentorship sessions took place for four days.
ابتدأنا شهر يناير في ماكال (متحف الفن الأفريقي المعاصر) في مراكش لحضور المعسكر التدريبي المكثف الذي جمع عشرين منتجًا ثقافيًا من شمال وغرب وشرق وجنوب القارة الأفريقية، حيث شاركنا في برنامج من المحاضرات والندوات، محادثات وجولات المعارض لمدة أربعة أيام متتالية من آجل التشبيك بين الفاعلين في المنطقة وخلق فرص للتعاون المحتمل
.